JOWO 2022
Episode VIII: The Svear Sommar of Ontology
The Joint Ontology WOrkshops (JOWO) is a venue of workshops that, together, address a wide spectrum of topics related to ontology research, ranging from Cognitive Science to Knowledge Representation, Natural Language Processing, Artificial Intelligence, Logic, Philosophy, and Linguistics.
JOWO 2022 will be held 15-19 August 2022 in
Jönköping University
, Jönköping, Sweden.
JOWO is a conference of the
International Association for Ontology and its Applications
(IAOA), which is a non-profit organization aiming to promote interdisciplinary research and international collaboration in formal ontology.
You can find a
general presentation of JOWO and former editions here
.
JOWO 2022 Proceedings
are available at CEUR Workshop Proceedings.
Format
JOWO is the joint Ontology WOrkshops that offers a platform for workshops to gather at the same time and place under one larger umbrella conference. JOWO 2022 is an on-site event taking place in the top modern facilities of the School of Education and Communication at Jönköping University's campus.
As an umbrella event, JOWO will set up a workshop schedule, ensuring that all participating workshops will have access to rooms, catered joint coffee and lunch breaks, and that all accepted papers will be published in the joint JOWO proceedings.
Additionally, JOWO will provide shared keynote speakers in relevant topics, organise social events and enable discussions across the workshop borders.
Workshops and Tutorials
JOWO 2022 will host
8 workshops
and
3 tutorials
. Visit the corresponding pages for more details.
Program
The following table gives you an overview of the JOWO schedule. You can also download a
PDF file with a more detailed program
.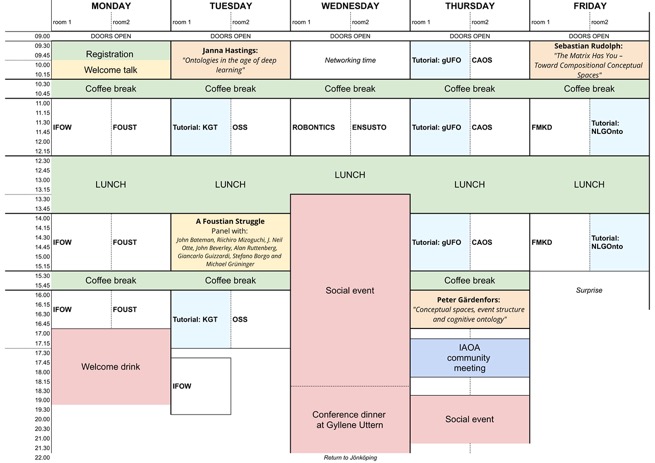 Keynote Speakers & Scientific Highlights
Confirmed keynote speakers at JOWO 2022

Peter Gärdenfors (University of Lund)


Janna Hastings (University of St. Gallen)


Sebastian Rudolph (Technische Universität Dresden)

Find out more about our keynote speakers and their talks here.

The FOUSTIAN Struggle
FOUST will host the first ever ontology science battle.
Read the details of this special panel debate here.

Social Program
The conference will open with a welcome event at the 1850s villa Mariedal. To discuss the scientific content of JOWO in a more relaxed setting, a half-day trip will bring you to enjoy the nature along the Vättern coast and to Gränna, THE Swedish candy city. The half-day excursion will culminate with the conference dinner at Gyllene Uttern with beautiful sunset views over the Vättern lake. The next day, you will be able to enjoy a BBQ on the beach.

Check out the details of the social program of JOWO 2022.

Venue and how to get there
Jönköping University, Jönköping, Sweden

Jönköping is a mid-sized town in the south of Sweden. It is beautifully placed directly at Vättern, Sweden's second largest lake, and tucked in between deep forests and hilly mountains. With old history including vikings and innovative industrialisation, today, the city is a fast growing, modern city with both plenty of culture and fine dining. However, the highlight of the city is the close proximity to nature as Jönköping is one of Sweden's most active and outdoor towns with popular activities ranging from water-sport to mountain biking to skiing. Each year it hosts a range of sports and culture events such as Jönköping Marathons, Triathlons and vintage cars and bike shows.

Campus map
The conference will take place in Building H at the heart of the JU campus. Follow the red arrow to arrive at the venue.



How to get here
For those joining the event from far away, the easiest mode of transport is flying:



Fly to Gothenburg Landvetter – then a 1.5h direct bus to Jönköping (Flixbus and Bus4you have direct bus lines to Jönköping)
Fly to Copenhagen – then a 3h train to Jönköping (goes directly from the airport)
Fly to Stockholm Arlanda – then ca 4h train to Jönköping
For those joining from the north of Europe, consider taking the train.

Train website: www.sj.se

Accommodation
In general, all hotels in the city are possible choices as the city is quite small. However, we recommend the following as a good place to start your search.
Recommended accommodation:

Remark on the Covid Pandemic
Due to the stabilisation of the pandemic, JOWO 2022 was decided to be run as an on-site event. We believe that this format offers researchers a venue with greater active participation in which researchers can come and discuss their work in a more personal manner than what was possible during the pandemic. This means that individual workshop organisers are expected to be on location and to encourage the participants of their workshops to also be on site. However, it is up to each individual workshop to decide for themselves if they chose to stream their workshop and allow participants and presenters to attend remotely. Jönköping University will provide technical equipment to enable this option.

Sweden removes all Covid-19 restrictions on February 9th. This means that while visiting you don't need to show any proof of vaccination nor negative tests, but please inform yourself of potential different policies in your mode of transportation, during your transit, and returning home. We want you to stay safe while visiting and to arrive without any troubles.

The event is generously sponsored by
Jönköping AI Lab, JAIL

Important Dates

February 15, 2022 – Workshop proposal submission deadline
March 1, 2022 – Latest date for workshop acceptance notification
March 16, 2022 – 1st call for papers to be distributed by individual workshop organisers
August 15-19, 2022 – JOWO conference dates


Registration
You can register on the registration page.
The JOWO 2022 fees are the following (all prices are in Skr and include a 25% VAT):


Early bird
(until July 24)
Regular registration
(until August 13)
Regular
3625 Skr
4375 Skr
Student
2375 Skr
3125 Skr
Online presenter
NA
750 Skr
Note that 1 Skr = 0.094 Euro (on the 21st of June)
If you wish to bring a plus one to the social events, the payment will be handled separately, and will cost
1000 Skr.
Organization
JOWO Chairs:

Maria M. Hedblom
, Jönköping University, Sweden
Tan He
, Jönköping University, Sweden

Proceedings Chair:
Tiago Prince Sales
, Free University of Bozen-Bolzano, Italy
Web Chair:
Selja Seppälä
, University College Cork, Ireland
JOWO Steering Committee:
Stefano Borgo
, Laboratory of Applied Ontology, ISTC-CNR, Italy
Oliver Kutz
, Free University of Bozen-Bolzano, Italy
Frank Loebe
, University of Leipzig, Germany
Fabian Neuhaus
, Otto-von-Guericke-University of Magdeburg, Germany
Sponsors