Resources
IAOA publications with IOS Press
Thanks to an agreement with IOS Press, membership benefits include free on-line access (for personal use only) to the following IAOA Publications.
Please go to the Members Area to access the IAOA Publications.
This access includes:
Applied Ontology — An Interdisciplinary Journal on Ontological Analysis and Conceptual Modeling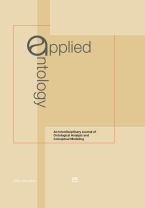 Proceedings of the International Conferences on Formal Ontology in Information Systems (FOIS) 
Proceedings of the Formal Ontology Meets Industry (FOMI) workshop series
CEUR Workshop Proceedings: IAOA Series
The CEUR Workshop Proceedings: IAOA Series includes proceedings of events organized by the IAOA, or organised and edited by some of its members and endorsed by the IAOA. The IAOA series provides an overview of the research activities carried out by members of the association, and covers especially new and emergent topics.
The CEUR IAOA Series was established in 2018, with the proceedings of that year's edition of the Joint Ontology Workshops (JOWO) as its first volume. Additionally, certain CEUR volumes, meeting the inclusion criteria and published before series establishment, have been retrospectively associated with the Series. These can also be found on the series home page.