January 2023 newsletter
Dear IAOA members,
it is with great sadness that we have to report that our friend and colleague Peter Yim passed away. Peter was one of the founding members of the IAOA in 2009 and immediately joined its Executive Council, in which he served until 2012. Many of you will also know Peter as the founder and co-convener of the Ontolog Forum. In addition, Peter was also one of the initiators of the Ontology Summit, which he co-organised every year until his retirement. In order to honour his pivotal role in organising and growing the ontology community, Peter was awarded the first "Peter Yim Award for outstanding service in support of Ontological Engineering" by the IAOA in 2014 (see picture below).
Working with Peter was a pleasure. Peter's enthusiasm for ontology was infectious, and he was a marvel at bringing people together and facilitating a stimulating and productive discourse. He will be sorely missed.
Because the new year started, the result of last year's election became effective and the membership of the Executive Council changed. We would like to thank Laure Vieu, Amanda Vizedom, and Ken Baclawski for their contributions as members of the EC, and welcome our new members Guendalina Righetti, Tiago Prince Sales, and Boyan Brodaric. Further, we would like to congratulate Oliver Kutz, who was elected as new IAOA president. Fabian Neuhaus was elected as Vice President, Frank Loebe and Megan Katsumi were elected as Secretaries, and Torsten Hahmann was appointed as Treasurer.
Below you find the news and announcements of our January 2023 newsletter. If you have information that we should include in our next newsletter, please do not hesitate to contact us.
Best,
The Executive Council of the IAOA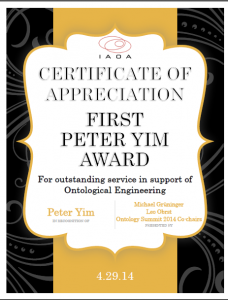 =======================================================
EVENTS ORGANIZED BY IAOA
=======================================================
* FOIS – 13th International Conference on Formal Ontology in Information Systems (FOIS 2023),
July 17-20, 2023 (Sherbrooke, QC, Canada) and Sept 18-20, 2023 (Online)
Website: http://fois2023.griis.ca
Submission deadline:
*** January 26, 2023 (workshops and tutorials proposals)
*** January 31, 2023 (paper submission)
*** April 14, 2023 (demonstrations proposals)
*** April 14, 2023 (ontology showcase proposals)
* Educational Series on Applied Ontology (ESAO)
Next meetings:
*** February 14, 2023
*** April 11, 2023
*** June 13, 2023
For further information, please stay tuned on: https://iaoa.org/
=======================================================
Ontology Summit 2023
=======================================================
* Title: Helping scientific researchers make better use of ontologies: Tools, Methods and Best Practices
In this Summit we will ask how to help scientists & researchers make better use of ontologies, and look for answers from a variety of perspectives. The first half of the Summit will draw examples from the Open Bio Ontologies (OBO) community, followed by a panel to discuss and help digest issues raised in the first half. Following this the second half branches out to other communities, disciplines and practices such as modular approaches to ontology development.
Website: https://ontologforum.com/index.php/OntologySummit2023
Launch of the Summit 2023:
*** January 18, 2023:
See the agenda for further information: https://ontologforum.com/index.php/OntologySummit2023
========================================================
UPCOMING DEADLINES OF EVENTS INVOLVING ONTOLOGY
========================================================
* 27th European Conference on Advances in Databases and Information Systems (ADBIS 2023)
September 4-7, 2023, Barcelona, Spain
Website: https://www.essi.upc.edu/dtim/ADBIS2023/index.html
Submission deadline:
** January 23, 2023 (workshops and tutorials proposals)
* 39th International Conference on Logic Programming (ICLP 2023)
July 9 – 15, 2023, Imperial College London, UK
Website: https://iclp2023.imperial.ac.uk/
Submission deadline:
** January 23, 2023
* 27th International Database Engineering & Applications Symposium (IDEAS 2023)
May 5-7, 2023, Heraklion, Greece
Website: https://conferences.sigappfr.org/ideas2023/
Submission deadline:
** February 1, 2023
* 3rd International Workshop on Knowledge Graphs for Online Discourse Analysis (BeyondFacts 2023]@TheWebConf(WWW)2023
exact date TBD within 30 April – 4 May 2023, Austin, Texas, USA
Website: https://beyondfacts2023.wordpress.com/
Submission deadline:
*** February 6, 2023
* 3rd International Workshop on Scientific Knowledge: Representation, Discovery, and Assessment@The Web conference (Sci-K 2023)
@The Web Conference
between April 30 and May 4, 2023 (tbc)
Website: https://sci-k.github.io/2023/
Submission deadline:
*** February 6, 2023
* 20th International Conference on Principles of Knowledge Representation and Reasoning (KR 2023)
September 2-8, 2023, Rhodes, Greece
Website: https://kr.org/KR2023/
Submission deadline:
*** March 3, 2023 (abstract submission)
*** March 14, 2023 (paper submission)
* 34th International Conference on Database and Expert Systems Applications (DEXA2023)
August 28-30, Penang, Malaysia
Website: https://www.dexa.org/dexa2023
Submission deadline:
*** March 7, 2023
* First International Workshop on Semantic Web on Constrained Things (SWoCoT23)
@ the ESWC 2023 conference
May 28 or 29, 2023, Hersonissos, Greece
Website: https://mondecalabs.github.io/SWoCoT23/
Submission deadline:
*** March 9, 2023
* 4th Biennial Conference on Language, Data and Knowledge (LDK 2023)
September 12-15, Vienna, Austria
Website: http://2023.ldk-conf.org/
Submission deadline:
*** March 10, 2023
* ER2023
November 6-9, 2023, Lisbon, Portugal
Website: https://er2023.inesc-id.pt/
Submission deadlines:
*** March 15, 2023 (workshop proposals)
*** May 17, 2023 (abstracts submissions)
*** May 24, 2023 (papers submissions)
* 21st International Conference on Business Process Management (BPM 2023)
September 11-15, 2023, Utrecht, The Netherlands
Website: https://bpm2023.sites.uu.nl
Submission deadline:
*** March 15, 2023 (abstract submission)
*** March 22, 2023 (paper submission)
* 28th International Conference on Conceptual Structures (ICCS 2023)
September 11-13, Berlin, Germany
Website: https://iccs-conference.org/
Submission deadline:
*** March 26, 2023
* 5th International Workshop on Health Data Management in the Era of AI (HeDAI2023)
@ EDBT/ICDT Joint Conference
Website: http://edbticdt2023.cs.uoi.gr
Submission deadline:
*** March 28, 2023
==================================
UPCOMING EVENTS INVOLVING ONTOLOGY
==================================
* 16th IADIS International Conference Information Systems 2023
March 11-13, 2023, Lisbon, Portugal
Website: https://www.is-conf.org/
* 6th International Conference on Emerging Data and Industry (EDI40)
March 15-17, 2023, Leuven, Belgium
Website: http://cs-conferences.acadiau.ca/edi40-23/
* 26th International Conference on Extending Database Technology (EDBT 2023)
March 28-31, 2023, Ioannina, Greece
Website: http://edbticdt2023.cs.uoi.gr/
==================================
SPECIAL ISSUES IN JOURNALS
==================================
* Data & Knowledge Engineering (Elsevier)
Special Issue on Challenges of Data Ecosystems in Data and Knowledge Engineering
Submission:
*** January 31, 2023
Website: https://www.journals.elsevier.com/data-and-knowledge-engineering/forthcoming-special-issues/challenges-of-data-ecosystems-in-data-and-knowledge-engineering
* Information Systems (Elsevier)
Special issue on "Temporal Representation and Reasoning in data-intensive systems"
Website: https://www.sciencedirect.com/journal/information-systems/about/forthcoming-special-issues#temporal-representation-and-reasoning-in-data-intensive-systems
Submission:
*** April 1, 2023
=============================================
ADDITIONAL INFORMATION
=============================================
[1] calendar: "IAOA Check Events"
https://www.google.com/calendar/embed?src=iaoa.member%40googlemail.com
[2] calendar: "IAOA Check Deadlines"
https://www.google.com/calendar/embed?src=os3b7er3ad4ela965ggjoa7u80%40group.calendar.google.com
[3] https://iaoa.org/
[4] https://iaoa.org/index.php/events/
[5] info@iaoa.org
[6] iaoa-member@ovgu.de
[7] calendars@iaoa.org